PLEASE CONTACT US ABOUT ADDING A LINK TO YOUR SITE, OR ABOUT NETWORKING WITH YOUR ORGANIZATION.
Note: a link does not neccessarily mean that STORM supports or agrees with every aspect of every groups methods and/or philosophies. We do wish to support other groups and encourage respectful, responsible, ethical, and scientific means and methods of research into the paranormal.
"STORM does not discriminate or condone any discrimination by its members or investigators based on age, marital status, medical condition or disability, race, religion, sex, sexual orientation, gender identity or expression, political views, veteran status, membership in any hobby group, membership in any union or employee association, or beliefs about the paranormal or the existence of spirits or another realm."
Ok so I made that last part up, but we believe that as well. You believe whatever you want to believe, as long as you respect others and allow us the same opportunity for our opinions.
Now, ya wanna call us so we can get together and do some research?
Atlantic Paranormal Society-TAPS


Ghostly Talk - Paranormal Talk Radio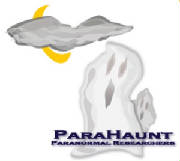 Shadow Watchers Paranormal Research